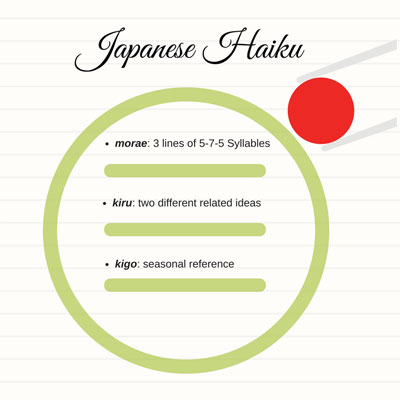 Traditional form- unrhymed 17 syllable poem of Japanese origin. It usually has a seasonal reference
. The
structure is: line 1 - 5 syllables; line 2 - 7 syllables; line 3 - 5 syllables
It is a lovely verse form and can say a lot in 17 syllables. See the example below.
Spring's Way
Winter fights to stay.
Sweet Spring always wins her way.
Flowers bloomed today!

Spring has final say,
Sending Winter on his way.
Her true love is May!

Spring's June wedding day.
White lily and rose bouquet.
Bells ring out today!
Source:
https://www.familyfriendpoems.com/poem/springs-way
I have not written one in a long time and will not attempt it today as I am suffering from a brain fog this morning. But do give it a try as we celebrate Haiku Day today.